Free ground shipping
in the continental United States.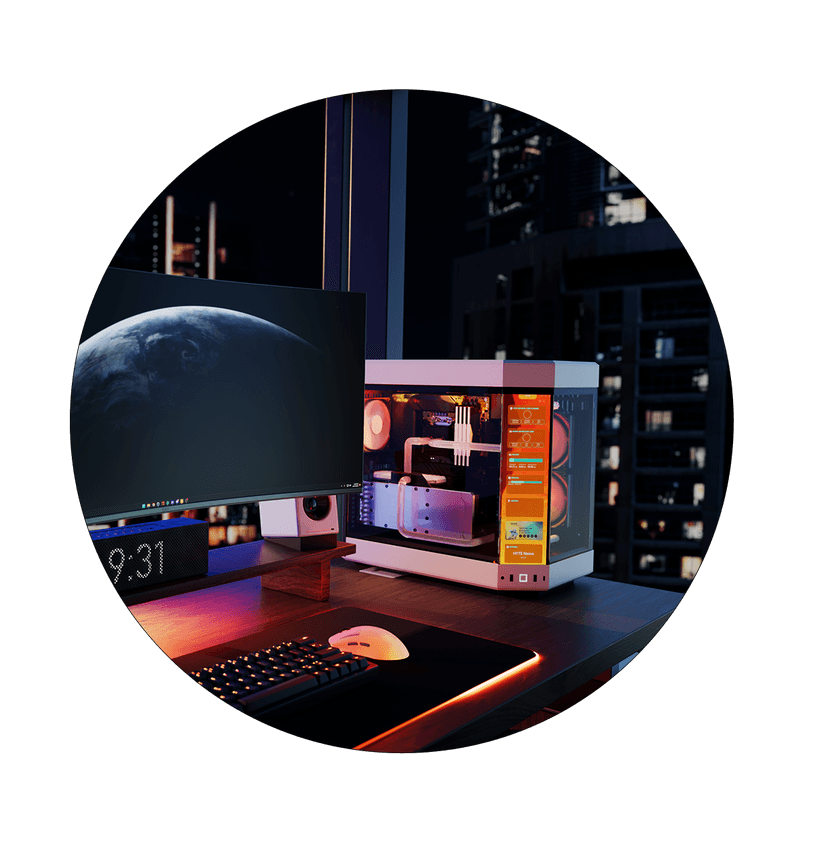 CNVS
Intense Play Mat
Why We Made This
Immerse yourself in life.
A bunch more Luma than Chroma.
Give your cat a turn on Rainbow Road.
50-Pixel qRGB array will have you asking for gum and offering shoulder rides.
"Bet it looks crispy in the dark."
What's Included:
CNVS Play Mat
Detachable USB-C to USB-C Cable
USB-C to dual USB-A Adapter
Quick-Start Guide
Product Features
50-Pixel qRGB Array
Industry leading brightness with 50 high fidelity per pixel lighting zones. Be immersed in life with new qRGB performance and <50ms latency for blistering fast screen-mirroring and more.
Massive Size
Coming in at 900 x 370mm size for full desktop and peripheral vision coverage with enough space for a full size keyboard and mouse.
Peak Superlubricity Surface
Super slick soft polyester surface minimizes friction for fasts and precise mouse movement. CNVS has a non-slip polyurethane rubber bottom preventing it from moving once placed.
Perpetual Edge Lighting
No blockers. An incognito control box blends into the light ring around the edge of the mat for a continuous band of light around CNVS.
Fused 7-Layer Soft Mat
Multi-layer construction ensures the best combination of a soft, compliant surface, with smooth lighting and durability.
Water Resistant and Easy to Clean
CNVS' top surface is treated to resist spills and stains and can be easily wiped clean if spills happen.
Powered by Nexus with a 3-Year Warranty
Get the most out of CNVS with HYTE Nexus software—personal experience software to unlock all of our qRGB enabled HYTE products.
Tech Specs
Surface Material
Soft Polyester
Base Material
Polyurethane Rubber
Power Draw
DC 5V ~ 1.8A 9W
System Requirements
A PC With Windows 10 or newer 1x USB Type-C or 2x USB Type-A
CNVS Worth the Price
Reviewed on 09/17/2023
You get what you pay for and the CNVS does not disappoint. The pad is high quality, thick, clean and durable. Accidental liquid spill clean up well right away. The RGB lighting works as advertised, all the different regions around the pad light up independently and the software is easy to use. I can easily set it and forget and it does all the work for you. I previously purchased a lot of those low quality pads on Amazon and they were all a disappointment out of the box. I am a few months in on the CNVS and i am just as happy today as i was the first day.
great addition to my setup! <3
Reviewed on 04/21/2023
When I found out that HYTE was coming out with an RGB desk pad, I was soooooo excited! I've been revamping my room and setup so this was the perfect addition to the RGB style I was trying to go for. It was super easy to set up and there's so many different lighting options to play with. I'm currently doing an all-purple lighting setup in my room and the CNVS really stands out. I think the lighting on here is even brighter and better than a lot of my other RGB components, which I'm really impressed by. I'd definitely recommend this if you're into creating crazy lightshows in your room lol
CNVS
Reviewed on 04/21/2023
This rgb mat is no joke, were talking about high quality feel and performance. I have RGB on every other aspect of my computer definitely had to get it on my desk mat. Make sure you have a good amount of desk space because the CNVS is huge. One of the greatest features about it is it works seamlessly with their Nexus software. I now have all my PC aesthetics on point, such a perfect addition for my gaming den.
Best RGB mat ever!
Reviewed on 04/21/2023
I just got my CNVS and I have to say I'm really impressed! The quality of this mat is simply amazing! The surface is really nice and smooth and the lighting is spectacular. I owned a cheap rgb mat before and the lighting on that is no where near what's on the CNVS. It's bright and the colors are intense! Works really well with the Nexus software. This will literally take my gaming experience to the next level! The price does seem a bit high at first but once you get your hands on one, you will understand why. Worth every penny!