HYTE DESK PAD DP900
900 x 400mm Premium Desk Pad
Free ground shipping
in the continental United States.
This item can only be purchased and shipped within US and Canada.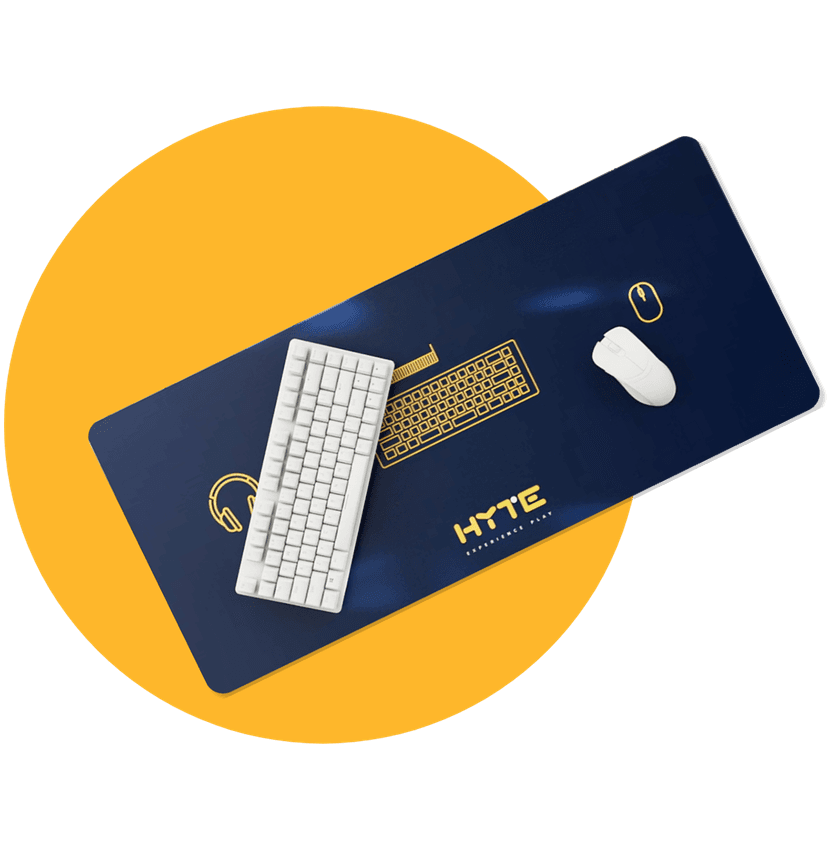 HYTE DESK PAD DP900
900 x 400mm Premium Desk Pad
The DP900 is HYTE's very first deskpad made from our signature colors: midnight blue and sweet, honey yellow. We carefully sourced the most luxurious fabric for a deep, rich color and silky smooth glide. With 28 SPI (Stitch Per Inch), we can confidently say you'll love this on your desk.
Why We Made This
900 x 400mm for that 360 no scope
Silky smooth 28 SPI (Stitches Per Square Inch) for your mouse to glide like a world-class ice skater
To look good (and hide the dust you don't clean)
Because we hate it when our arms rub against the surface of our desk too
Inspired by: you, and all the awesome things you'll do here <3
Best pad ever!
Reviewed on 01/9/2023
Okay so i have a custom marble top desk which is cool and all BUT it gets super cold and freezes my forearms when i type. I bought this pad and it completely fixed my issue for me. Its nice, durable, and doesnt stain easily.
Amazing quality
Reviewed on 08/21/2022
Shipping was very fast, quality is astonishing, and the product is exactly what is shown in the pictures
Hyte desk pad
Reviewed on 06/22/2022
I was in love when I saw this product online but it came in a nice wrap and it is huge. Really love it! Thank you Hyte for sponsoring this desk pad :)
Desk Pad
Reviewed on 06/19/2022
Desk Pad came in nice packaging, no folds or creasing. Overall it is very smooth, great grip on the back, perfect friction between the mouse, (seems good for games like val & apex) and with the edges sewn it seems very durable. Color scheme works very well and being so large it is able to cover the majority of any desk.
Review after 4 months
Reviewed on 04/8/2022
I wanted to give this review later on to give a more genuine review. I have been using this desk pad for the past 4 months and it is very good quality. It has nice glide and it has not shown any signs of wear. Usually cheap desk pads start to deteriorate after a few months and this desk pad still looks and feels brand new.
Pure Quality
Reviewed on 03/18/2022
The packaging is fantastic! The deskpad is one of the best feelings you can experince trust me.
Great
Reviewed on 02/21/2022
good
Reviewed on 01/28/2022
It's nice and glidy, smooth and stiched
Mousepad
Reviewed on 01/25/2022
Silky smooth, aesthetically beautiful. Love the stitched edges! I will be using this mousepad for a while. 10/10
Wow!
Reviewed on 01/12/2022
Honestly a wonderful mouse pad. It's the perfect size for my desk. Great quality. The packaging is immaculate! Great pricing as well.
Got it free but worth the money
Reviewed on 01/10/2022
Very nice feeling deskmat, im using it for my keyboard modding station and its pretty sweet. Definitely recommend it, its huge and feels well made.
Product received for Free
Reviewed on 01/6/2022
This thing is comically large. Not a single person I showed it to didn't immediately say "but why is it so big?". The package it came in is a rather high quality tube, and the mat itself is rather thick, sticks in place on my glass desk pretty well, and so far has been a lot more reliable in my mouse tracking properly than the old mat I replaced with this monster. Only downside is it's so big I can't use my standing desk converter anymore cause it wouldn't fit in mouse/keyboard area.
really glides!
Reviewed on 12/25/2021
A+ on packaging The pad itself feels substantial and very high quality, and my mouse really does glide over the surface. I can't say I've ever felt my mouse move across a pad this smoothly (though to be fair, I've only had the cheaper pads over the years). Get it!
Awesome pad
Reviewed on 12/23/2021
I was in the market for a new pad and this one is terrific! super slick and really quality material.
Bigger Than Expected
Reviewed on 12/22/2021
Didn't knew it would be a bigger than I thought. Thought it was the size of TCG mats but its much bigger. Quality is good and love the edges.
Quality
Reviewed on 12/8/2021
From the packaging to the quality of the mousepad nothing was cheaped out I would 100% buy another. my mouse glides across this with ease my last mousepad was 15 dollar amazon one that wore out in 3 months.
So silky smooth...
Reviewed on 12/8/2021
Highly recommend! 10/10 can spend all day rubbing the pad.
BestDeskpadNA
Reviewed on 12/8/2021
From a gamers perspective it is comparable to a speed pad. the mouse glides effortlessly for tracking. I would recommend for games like Apex , might want to lower your sensitivity for games like Valorant
Amazing quality
Reviewed on 12/3/2021
This is one of the best if not the best mousepad / desk matt that I ever owned. Also, it helps that I got it for free!
Best desk pad I've bought so far
Reviewed on 11/20/2021
The materials use for this desk pad is really superior to anything I've bought before in the past.
Feels good
Reviewed on 11/20/2021
The material is pretty nice.