Mori Calliope Y40 + Desk Pad + Gift Box Bundle
S-Tier Aesthetic Case
Free ground shipping
in the continental United States.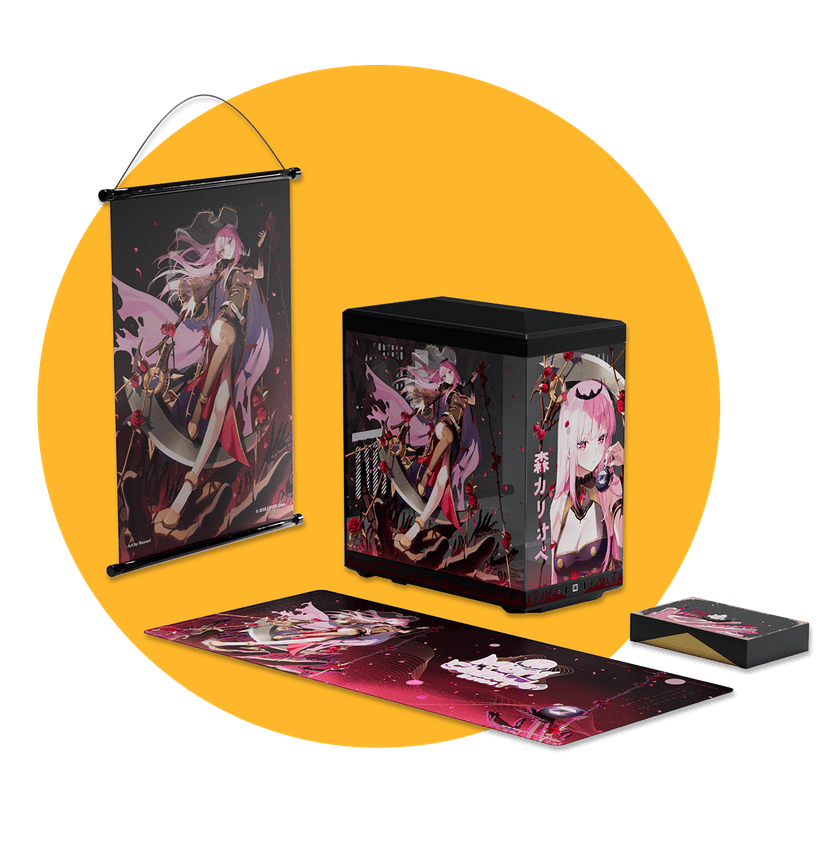 Mori Calliope Y40 + Desk Pad + Gift Box Bundle
S-Tier Aesthetic Case
失礼しますが、RIP♡. Dead Beats! We're back bigger and better than ever and with more exclusives to commemorate your favorite rockstar shinigami, Mori Calliope!
RIP Gaming PC! Dead Beats are you ready to rock? Enjoy an entire collection of limited edition accessories to complement your insanely decked out, 360-degree artwork filled, Mori Calliope Y40 case! GUH. All souls be with Death-Sensei as extremely limited pre-orders are now available on HYTE.com for orders within US and CAN with select distributors worldwide coming soon! Don't let Calli down, collect yours today! #calliohyte
"My PC-savvy Dead Beats are gonna go crazy for this one!! I'm so in my element with the art here…reaper pink is in style, right?! Plus, that art is too good to not have had a tapestry for your wall…I might have to buy 10." - Mori Calliope"
Artist: Rosuuri
I'm Rosuuri, an illustrator who draws for game and publishing companies! I specialize in character design and illustrations for games, light novels, and illustration books. I post various illustrations on Twitter & Pixiv!
キャラデザイナとフリーイラスイラストレーター活動中。 色々イラストをPixiv&Twitterに投稿していますので,ぜひチェックしてください!
--
Mori Calliope Y40 PC Case Bundle Exclusive Accessories:
Limited Edition Mori Calliope Y40 PC Case
Motoaki Tanigo + iBUYPOWER/HYTE Co-Founder Signature Certificate of Authenticity
Exclusive "Death-Sensei" Resin Keycap by Dwarf Factory
2-pc Mori Calliope themed "Enter" (2.25u) and "Spacebar" (6.25u) Dye Sublimated PBT Keycap Kit
"Ricky" Enamel Scythe Keychain & Death-Sensei Charm
Mori Calliope Chibi Edition Acrylic Keychain #callichibi
Enamel Microphone Stand Pin
Exclusive Mori Calliope Sticker Sheet
60cm x 45cm Limited Edition Mori Calliope Wall Scroll
800x380mm Mori Calliope Deskpad
Black/Pink Color-matched PC Cable Sleeves (24 Pin MB (1), 4+4 Pin CPU (2), 6+2 Pin VGA (2), 3 x 8 Pin VGA to 12VHPWR (1))
Limited Edition Accessory Box
Limited Edition PC Case Packaging
Product Features
Multi-Dimensional Design
Details connect every part into a deeply harmonic design structure. Every edge is adorned in tightly controlled beveling for s-tier aesthetics. 2-Piece Panoramic Glass set the stage for a completely unobstructed view of your system's performance.
Ginormous Vertical Graphics Support
Y40 grows GPU support to 4 full slots with additional airflow space between the edge of the card and the glass. An intake fan below the power supply shroud provides fresh air upwards to the GPU to improve cooling further.
Included Luxury PCIE 4.0 Riser Cable
A protective riser cable canopy integrates beautifully into the case, allowing for half-height PCIE cards behind the throne of the vertical graphics card.
Cooling
Y40 comes with 2x 120mm fans pre-installed, one beneath the floor and one at the rear. The side mount can fit up to a 280mm radiator with a combined thickness of up to 120mm allowing for large 60mm+ radiators to be used for custom loop configurations, and the top mount can fit up to a 360mm radiator for dual radiator setups. Y40 also brings support for large air coolers over 180mm in height, allowing for almost every CPU cooler on the market.
Tech Specs
Case Dimensions
439mm x 240mm x 472mm​
Motherboard Support​
ITX, mATX, ATX​
Power Supply
ATX up to 224mm in length​
Video Card Max Dimensions​
422mm length, 94mm height (80mm height or less recommended for best cooling)​
Fan Support​ (Side)
2x 120mm/140mm​
Fan Support (Top)
Top: 3x 120mm​
Fan Support (Rear)
1x 120mm (1x 120mm, 1300 rpm included)​
Fan Support (Bottom)
1x 120mm/140mm (1x 120mm, 1300 rpm included)​
Radiator Support​ (Side)
120, 140, 240, 280mm up to 120mm thick​
Radiator Support​ (Top)
120, 240, 360mm​
Radiator Support​ (Rear)
120mm​
Storage
1 x 3.5" HDD or 2 x 2.5" SSD​
Expansion Slots​
4 + 6 half-height​
Interfaces
PCI Express Riser Cable​
4.0 x 16 (included)​
Dust Filters​
Top, Side, Bottom (x2)​
*When using an air cooler rather than liquid cooler, HYTE recommends the installation of 2 additional intake fans (not included) on the side mount of the Y40 for optimal airflow.
Download Mori Calliope Y40 + Desk Pad + Gift Box Bundle Instruction Manual
GUH dad does it again
Reviewed on 09/15/2023
This is amazing piece! From the artwork to the extras. The keycaps are awesome and great quality. The accessories box just an absolutely mind blower. Deskpad is good quality and completes the look. Overall an excellent purchase and I would recommend it to anyone who listens
Scythe - A reapers best friend
Amazing case, amazing everything
Reviewed on 09/5/2023
You get; A fantastic case, adorned with your missing father figure A gorgeously beautiful mousepad, seriously, it shimmers in light A nice tapestry A nicely designed box that holds your certificate, pins, and KEYCAPS. Excellent quality custom sleeved PC cables This is an amazing bundle, and is one of my favorite streamers. I haven't regretted purchasing it, from the moment I pre-ordered to the moment it arrived. Peace.
Beautiful
Reviewed on 08/31/2023
Worth every cent. Design looks amazing up close. Definitely recommend anyone who needs a new case with a nice design, especially with Calli in it!