Y70 Touch
Modern Aesthetic Case
Free ground shipping
in the continental United States.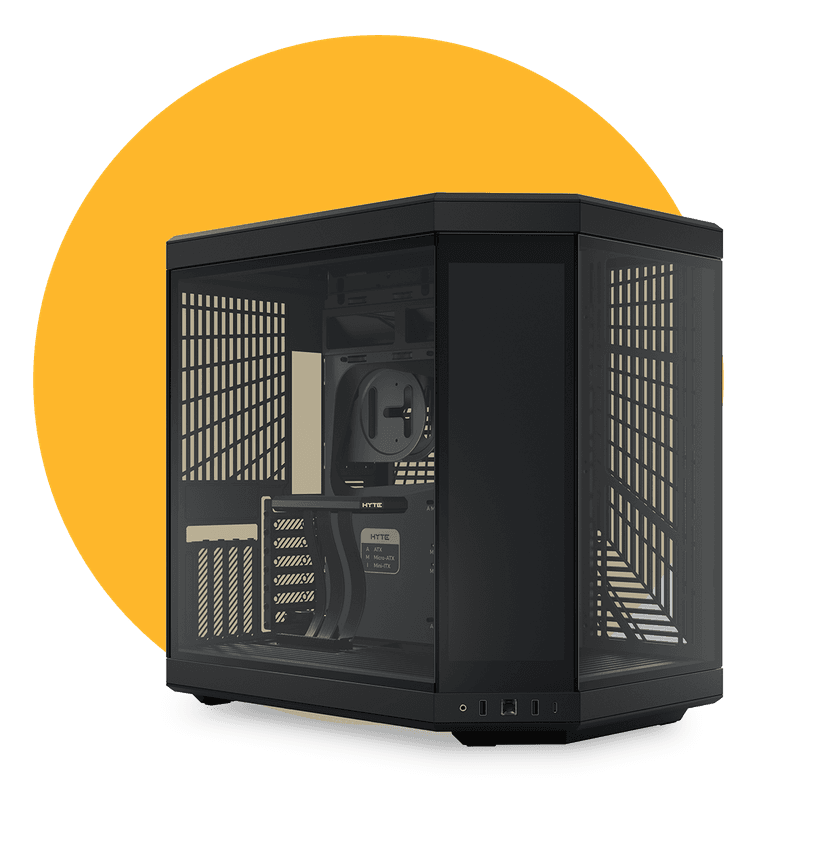 Y70 Touch
Modern Aesthetic Case
Enhanced In Every Dimension
Y70 Touch enables meaningful digital interaction with an integrated 4K 10-point multi-touch capacitive LCD panel, delivers next-generation gaming experiences with massive 4-slot vertical graphics, and unlocks maximum performance with ginormous cooling capacity. All while celebrating your favorite hardware by showing off your PC the way it was meant to be seen.
Product Features
Mesmerizing 14.1" Integrated Touchscreen
At a resolution of 1100 x 3840 (4K) and refresh rate of 60Hz, this capacitive touchscreen delivers an insanely crisp and buttery smooth visual experience alongside 10-point multi-touch capability which unlocks a magnitude of possibilities with extensive screen customization powered by HYTE Nexus software. All in a single package integrated into the case chassis structure, pioneering meaningful digital interaction with the best display ever in a case.
Massive 4 Slot Vertical Graphics
Y70 Touch grows GPU support to 4 slots with additional airflow space between the edge of the card and the glass. This means you can fit even the largest and most powerful of graphics cards into your build with ease. Additionally, the cold floor cooling down below can house up to a trio of 120mm or duo of 140mm fans up to 32mm thick to direct fresh airflow straight into the GPU.
Included Luxury PCIE 4.0 Riser Cable
Included with the case is a luxury PCIE 4.0 x 16 riser with a color-matched canopy for uninterrupted visual flow that'll make for a painless GPU installation and build process. It also allows for a plethora of half-height PCIE cards to sit behind the throne of the vertical graphics.
Ginormous Cooling Capacity
A spacious interior makes room for up to a 360mm long & 125mm thick radiator on the side and adjustable top bracket that can house another 360mm radiator up to 68mm thick up above. Working together with the cold floor cooling at the bottom and spot for an additional fan at the rear of the case, Y70 Touch has a total capacity of 10 fans in a fully populated chassis. With over 180mm of clearance to the side glass, air and water cooling enthusiasts alike will appreciate the flexibility afforded to them by the chassis to create the most robust cooling configurations possible.
Unified Modern Aesthetic
With 4 unique colorways, Y70 Touch puts your build front and center with a beautifully crafted 3-piece panoramic glass which serves as a window into the heart of your PC. The dual chamber interior layout keeps the front looking great while giving you plenty of space to manage cables in the back, especially with the help of our seamless L-shaped molded rubber grommet, meticulously placed cable routing channels & tie-down points, and reusable Velcro straps. All easily accessible with tool-less top and side panels alongside floating storage sleds that eject from the rear of the case for intuitive drive maintenance.
Tech Specs
Type
Dual Chamber Mid-Tower ATX Case
Exterior Dimensions
470 x 320 x 470 mm
Motherboard Sizes
ITX, mATX, ATX, EATX
Expansion Slots
7 half + 4 full height
Riser Cable Included
Yes, PCIE 4.0 x 16
I/O
2x USB-A 3.2 Gen 1, 1x USB-C 3.2 Gen 2
Top Fans
3x 120 mm / 2x 140 mm
Top Radiator
120-360, 140-280 @ 68 mm thick
Rear Radiator
1x 120/140 mm
Bottom Fans
3x 120 mm / 2x 140 mm @ 32 mm thick
Side Fans
3x 120 mm / 2x 140 mm
Side Radiator
120-360, 140-280 @ 125 mm thick
Max Video Card Length
422 mm
Max Video Card Thickness
105 mm
Max CPU Cooler Height
180 mm
LCD Screen
14.1" 1100 x 3840 (4K) Capacitive Touchscreen (283 PPI)
Touch Input
10-Point Multi-Touch
Powered By Nexus
Yes, Nexus Touch
8 out of 10, with room for improvement
Reviewed on 11/28/2023
For me, the touch screen is much more than a mere gimmick. I've configured it so that it's not only useful but also knocks the user experience out of the park. I installed 13 fans (3 SP120s on the bottom, a QL140 at the rear, three QL120s on the side, and six QL120s in a push/pull config around my 360mm AIO on top). I have to adjust that config to see what works best because my 13700K was 7-10 degrees cooler at idle in the 5000X that this Y70 is replacing. My 7900XTX is running about the same in the Y70. If I can adjust the fan config and get the same or better thermal performance than I was getting in my old case, the Y70 will be a 9 out of 10 for me, as-is. If/when they improve/expand the widget functionality, it should be a 10 out of 10. My only gripe is that Nexus Touch uses A LOT of resources and adds about 10 full seconds to my boot times. Hopefully, future updates improve that. My days of ridiculous overclocking and squeezing every conceivable FPS out of my system are in the past, so it's not that big of a deal. The functionality and appeal more than make up for it. Yes, $360 is a lot for a case, but I'm so happy with how this turned out that I've all but forgotten about the cost. I'm very happy that I pulled the trigger on this.
Hyte Y70 TOUCH
Reviewed on 11/25/2023
I think this is one of the most innovative cases and definitely an upgrade over the Y60. A more spacious case with the addition of a touch. Overall great case.
Please Make a No Touchscreen Version
Reviewed on 11/22/2023
I will Buy this in a heartbeat if we had an option for no touchscreen and this was basically just a bigger Y60. Lovely design though please consider removing the touchscreen as a option the customer can choose.
This case is awesome but y60 with a lcd mod can be better
Reviewed on 11/12/2023
Yes lcd mod for y60 is also almost same experience but if it is already provided in y70 it is less work for the consumer. But brice tag of y60 is 199$ and it is way cheep to do a lcd mod with y60.
very nice
Reviewed on 11/9/2023
COOL
Reviewed on 10/31/2023
Amazing space and quality
Reviewed on 10/24/2023
The build it self had a lot of room considering the installation of the monitor. Fans were much easier and better to install the the older Y60. And the quality of the monitor is just amazing. I highly recommend getting this case and you you enjoy your build in it.
No touch screen
Reviewed on 10/24/2023
I want to ask from the hyte team that will there be a model without the touch screen because there are a lot of people like me that don't want screens in there pc and just want to see there hardware like the previous iteration y60. So it will be greatly appreciated if there will be a case without the touch screen or an option to order the case without it.
Beautiful PC Chassis
Reviewed on 10/24/2023
Way too expensive. Yes I get, "go big or go home, Get what you pay for… Value is priceless" etc. Cliché cliché, this is still too much to pay At $359.99 Money is uncertain in 2023-2025 $199.99 sure. Touch screen or not. The tech savvy can add this for $80 bucks. If success is weighing on sales of this chassis with only the "non tech savvy" to purchase, because they "can't" or don't want to "waist the time. Looks cool though.
The best case I can get
Reviewed on 10/24/2023
This case is amazing, the built in LCD display makes this so immersive and sets a new standard for cases, this is a large step up from the Y60.
Awesome case
Reviewed on 10/24/2023
The is the coolest case i have ever seen and it looks even better with components in it.