Ouro Kronii Y60 + Desk Pad Bundle
Modern Aesthetic Case
Free ground shipping
in the continental United States.
This item is no longer available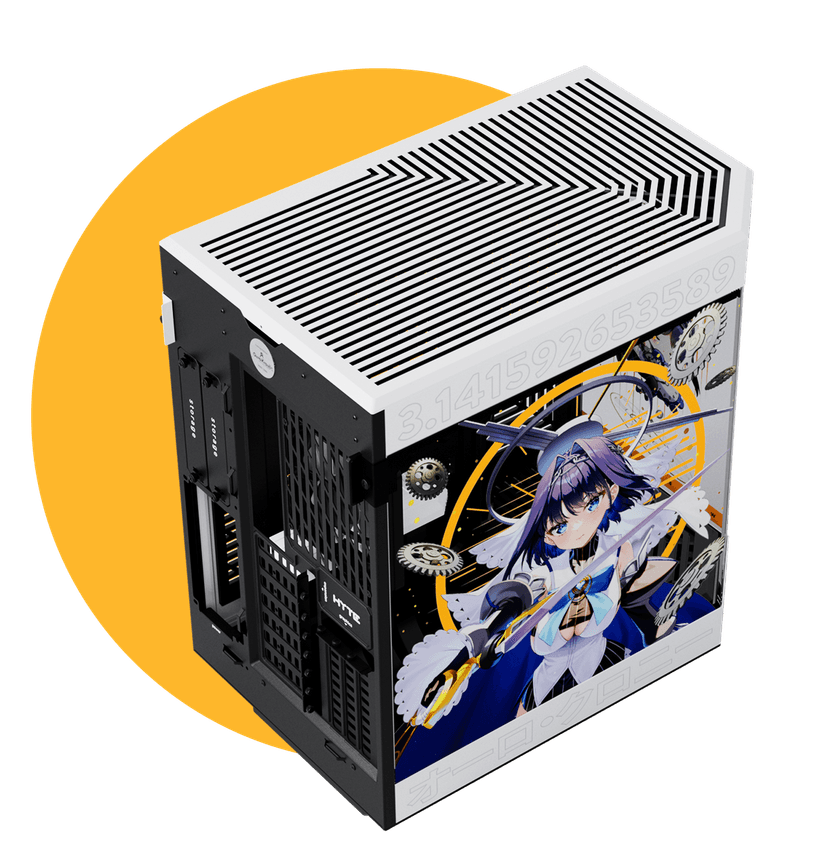 Ouro Kronii Y60 + Desk Pad Bundle
Modern Aesthetic Case
Hololive Council returns to HYTE with the all-new OURO KRONII Limited Edition HYTE Y60 Case and Desk Pad Bundle!
The Warden of Time leaves no stone unturned when it comes to details, featuring a customized power button, UV engraved glass panels, and even her signature GWAK for every Kronie to enjoy! Every Ouro Kronii PC case purchase comes bundled with a matching large format OURO KRONII desk pad (800x380mm) to complete the collection. Collect yours today! Extremely limited pre-orders are now available on HYTE.com for orders within US and CAN with select distributors worldwide coming soon!
Artist: Rosuuri

I'm Rosuuri, an illustrator who draws for game and publishing companies! I specialize in character design and illustrations for games, light novels, and illustration books. I post various illustrations on Twitter & Pixiv!

キャラデザイナとフリーイラスイラストレーター活動中。 色々イラストをPixiv&Twitterに投稿していますので,ぜひチェックしてください!
Available Worldwide from Select Distributors
Product Features
Panoramic Views
No corner pillar. The Y60 features a 3-piece panoramic tempered glass design for the ultimate photo and display potential. See your build the way it was meant to be seen from the left or right side of your desk with a simple turn.
Exclusively Vertical GPU Mounted
Why would you want to see your graphics card any other way?
Included PCIE 4.0 Riser Cable
A protective riser cable canopy integrates beautifully into the case, allowing for half-height PCIE cards behind the throne of the vertical graphics card. The protective shroud is the first of its kind, made specifically for the Y60.
Antechamber Construction
Segment cables from thermal components and turn your PC into a work of art.
Cold Floor Cooling
Eliminate hot spots with sweeping lateral vents from fans tastefully tucked into the basement of the Y60.
Included Fans
The three pre-installed Flow FE12 fans with fluid-dynamic bearings provide whisper-quiet operation.
Tech Specs
Type
Dual Chamber Mid-Tower ATX Case
Case Dimensions
456mm (L) x 285mm (W) x 462mm (H)
Case Materials
Tempered Glass, Steel, ABS
Color
White/Black, Black/Black, Red/Black
Motherboard Support
EATX, ATX, mATX, ITX
Power Supply
ATX up to 235mm in length
Video Card Max Dimensions
375mm length, 75mm thick (60mm or less recommended for best cooling)
Fan Support
Side: 2x 120/140mm Top: 3x 120mm Rear: 1x 120mm (1x 120mm, 1300 RPM included) Bottom: 2x 120mm/140mm (2x 120mm, 1300 RPM included)
Radiator Support
Side: 120, 140, 240, 280mm up to 150mm thick Top: 120, 240, 360mm up to 30mm thick Rear: 120mm
Storage
2x 3.5" HDD or 4x 2.5" SSD
Expansion Slots
3 + 6 half-height
PCI Express Riser
4.0 x 16 (included)
INTERFACES
Front USB 3.2 Gen 2 Type-C
1
Dust Filters
Bottom, Side, Top
* When using an air cooler rather than liquid cooler, HYTE recommends the installation of 2 additional intake fans (not included) on the side mount of the Y60 for optimal airflow.
Download Ouro Kronii Y60 + Desk Pad Bundle Instruction Manual
Amazing!!
Reviewed on 05/26/2023
Case is wonderfully designed, easy to navigate and very simple to build into. I get much better airflow than previous builds and the Kronii decals just top off how great a case it is!
PERFECT
Reviewed on 03/26/2023
Bought this case to replace my MSI case and saw temps drop 25-30 degrees. Fans are super quiet as well, even while gaming under load. Having the Kronester on it is the icing on the cake. Awesome job on this case HYTE!
Beautiful
Reviewed on 03/9/2023
I hope I can build it right.
Best Case for the Best Girl!!!
Reviewed on 02/7/2023
It arrived and I can just cry over just how Perfect it is! All the designs are tasteful and build quality is on par with Kronii herself. Will use for holocure and No doubt main Kronii!! 10/10 Will recommend!!
Kronii/10
Reviewed on 12/29/2022
Just Arrived and its amazing to behold such perfection Kronii on the side lookin pissed at me for wasting time playing games is chefs kiss. AND BOROS!!!! memes aside: Very huge reading the size docs was worried I wouldnt have room and now my 3090 has ample room to space heat my room. and fit new build perfectly Kronii/10 indeed umu
Really SOLID Design!
Reviewed on 11/22/2022
It takes the classic hyte y60 with a timeless design. I can't wait to do a themed build in this case!
Perfection
Reviewed on 11/17/2022
I've never this any case this much perfect it's really amazing can't wait to use it.