PCIE40 4.0 Luxury Riser Cable
A Luxury Aesthetic, High Performance Riser Cable
Free ground shipping
in the continental United States.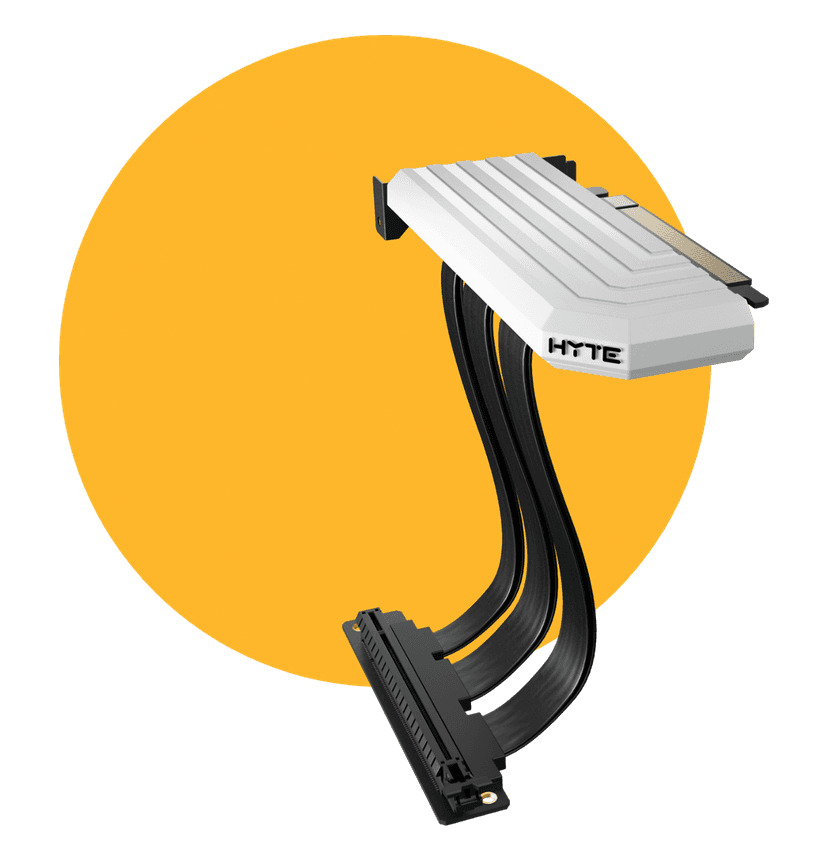 PCIE40 4.0 Luxury Riser Cable
A Luxury Aesthetic, High Performance Riser Cable
Why We Made This
Vertical graphics card
EMI shielded, rigorously tested and built with high quality copper wires for ultimate PCIE 4.0 x16 bandwidth performance.
Half-height bracket, full-height bracket? Both options are included to allow for more case compatibility.
Only aesthetic luxury PCIE 4.0 riser cable on the market that considers your new vertical GPU set up–now in all three canopy colors–just like the Y60!
What's in the box
HYTE PCIE40 4.0 Riser Cable
Full-height Bracket
Half-height Bracket
6-32*6 Flat Head Screws x2
M3*6 Self-tapping Screws x5
Quick Start Guide
Product Features
Design
PCIE40 4.0 riser cable features a cover canopy available in 3 colors to add a premium look to vertical graphics compatible systems
Performance
Rigorously tested to comply with the PCI Express 4.0 standard, enjoy industry leading performance with full x16 bandwidth.
Stability
EMI shielded high quality copper wires guard against outside interference and crosstalk for a rock solid gaming experience.
Durability
Highly flexible ribbons are protected from damage by a plastic coating and solder points are guarded by covers at both ends to avoid damage during installation.
Compatibility
With a total of 200mm of cable length and included full and half height pcie brackets, the PCIE40 is a breeze to install and compatible with a wide range of cases on the market.
Tech Specs
PCI Express Generation
4.0 and older
Color(s)
Black, White, Red
WIRE SPECS
Conductor
30 AWG silver plated copper
Ground Wire
32 AWG tinned copper
Pair Shield
Bottom, Side, Top
Pair Cover
Aluminum foil mylar tape
Working Voltage and Current
30V 12V / 5A
Cases with rotating PCIe slot assemblies
Brand/Model
Thermaltake
Divider 550 TG
Thermaltake
Divider 300 TG
Thermaltake
Divider 500 TG
Cases with adjacent vertical PCIe slots
Make sure to leave enough space between GPU fans and side panel for airflow. Recommend at least 20mm space.
Decent cable for old tech
Reviewed on 09/4/2023
Does what it is supposed to do in most cases. The only thing is that it is older tech now and will slow your GPU down if you have a PCIe 5.0 slot on your motherboard. Hoping Hyte updates the riser cables to 5.0 in the near future.
free with Y60
Reviewed on 12/21/2022
Riser cable came with my Y60 case so very happy with it ! Color matches the case