Free ground shipping
in the continental United States.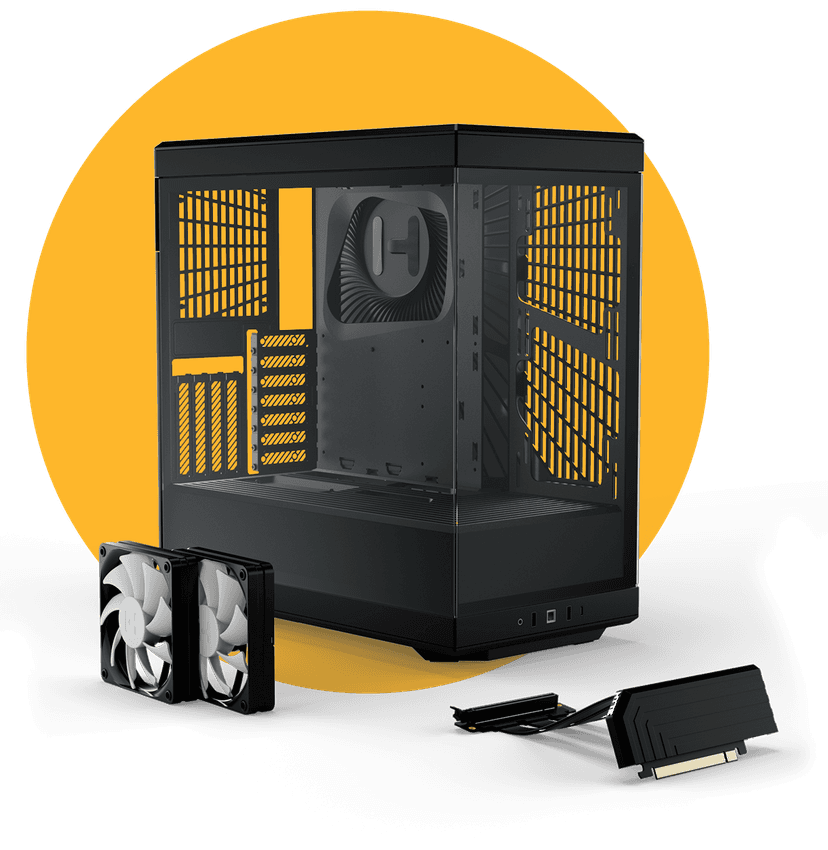 Y40
S-Tier Aesthetic Case
Designed From Every Dimension
The all-new Y40 is designed to wow and priced to thrill while defining new industry standards for ATX cases everywhere. Elevate your expectations of multi-dimensional case design, next-gen GPU compatibility, and overall system harmony today.
Product Features
Multi-Dimensional Design
Details connect every part into a deeply harmonic design structure. Every edge is adorned in tightly controlled beveling for s-tier aesthetics. 2-Piece Panoramic Glass set the stage for a completely unobstructed view of your system's performance.
Ginormous Vertical Graphics Support
Y40 grows GPU support to 4 full slots with additional airflow space between the edge of the card and the glass. An intake fan below the power supply shroud provides fresh air upwards to the GPU to improve cooling further.
Included Luxury PCIE 4.0 Riser Cable
A protective riser cable canopy integrates beautifully into the case, allowing for half-height PCIE cards behind the throne of the vertical graphics card.
Cooling
Y40 comes with 2x 120mm fans pre-installed, one beneath the floor and one at the rear. The side mount can fit up to a 280mm radiator with a combined thickness of up to 120mm allowing for large 60mm+ radiators to be used for custom loop configurations, and the top mount can fit up to a 360mm radiator for dual radiator setups. Y40 also brings support for large air coolers over 180mm in height, allowing for almost every CPU cooler on the market.
Tech Specs
Case Dimensions
439mm x 240mm x 472mm​
Motherboard Support​
ITX, mATX, ATX​
Power Supply
ATX up to 224mm in length​
Video Card Max Dimensions​
422mm length, 94mm height (80mm height or less recommended for best cooling)​
Fan Support​ (Side)
2x 120mm/140mm​
Fan Support (Top)
Top: 3x 120mm​
Fan Support (Rear)
1x 120mm (1x 120mm, 1300 rpm included)​
Fan Support (Bottom)
1x 120mm/140mm (1x 120mm, 1300 rpm included)​
Radiator Support​ (Side)
120, 140, 240, 280mm up to 120mm thick​
Radiator Support​ (Top)
120, 240, 360mm​
Radiator Support​ (Rear)
120mm​
Storage
1 x 3.5" HDD or 2 x 2.5" SSD​
Expansion Slots​
4 + 6 half-height​
Interfaces
PCI Express Riser Cable​
4.0 x 16 (included)​
Dust Filters​
Top, Side, Bottom (x2)​
Y40 Snow White
Reviewed on 11/17/2023
Y40 is a good value, but could use improvement
Reviewed on 09/9/2023
While I love my Red and Black Y40 I have, one major place I think it could use a few more storage places for HDDs and SSDs as there is only one bracket for such and no Drive trays to speak of. But if that doesn't bother you that much this case is an amazing buy for just starting out and having an amazing foundation to build on
Y40 is perfect
Reviewed on 07/4/2023
Love the black and white Y40 case. I traded my NZXT 510 for this and happy I did. Never really liked the solid white though that's a little girlish for my taste.
Almost perfect
Reviewed on 03/4/2023
This was my first time building the PC myself. The case is stunning and was super easy to get along with, with some exceptions: 1. The instructions need to have words not just very bad illustrations, it added more confusion than anything and it probably took me an hour to figure out what some of the case connectors were for and where they should go as a noob. 2. Please vent the bottom of the main compartment better, the bottom fan is almost useless when 90% of the bottom isn't vented. Also I'd like to see the bottom fan moved to the top of the underside compartment, would make managing cables from the PSU a bit easier and logically just makes more sense imo. 3. Please make the pcie riser fully removable, it would make getting the motherboard in and plugging in connectors at the bottom of the motherboard MUCH easier. Was one of my biggest points of annoyance in the whole build. Overall though I'm very pleased so far, I have unfortunately not been able to test thermals since I've been waiting for my CPU cooler to arrive for the 7950X3D, but once that has arrived and if I'm able to update this post I'll be sure to add my experience with a 4090 and a 7950X3D inside such a small case.
HYTE Y40 case
Reviewed on 03/1/2023
The Y40 is an interesting case with plenty of pleasant surprises. Even with over two decades of PC building experiences, the Y40 managed to surprise me on it's positives. I was very hesitant to pick a new case company among the usual top brands since I was also very happy with my previous all aluminum cases, while knowing the Y40 is NOT. Pro: Beautiful paint job on a, all-steel body panel Few plastic parts, mainly the lower square black tunnel Very light weight, yet feels strong Lots of tie-down points for cable management Tools free side panels removal * Con: The FRONT glass removal is not tools- free, it's held in place by 6 screws Slightly short of fan space, if you have three 120mm fans on top, it will block the 140mm side fans Have to remove one of the front 120mm fans to install the AIO with tubes UP Since most people will put RGB LEDs this case, it makes the included two nice 120mm case non-RGB fans a waste. HYTE undersold this case. The side and top panels are so beautifully cut, and the lack of info made me thought that it was plastic. This the most beautifully painted steel case I have seen, and building it is very easy with three removable panels. Keep up the beautiful work HYTE.
Y40
Reviewed on 02/18/2023
Love the design but I think fans should be placed under Shroud Not on the bottom of case but I'll tool it out to fit 2 fans under gpu grommets would be nice even if I had to buy them separately but for 150 for a case with 4.0 riser included its a steal
Hyte Y 40 White
Reviewed on 02/1/2023
I purhcased mine on amazon. I'm running an ASUS motherboard with an I7 12700k and an RX 5700XT. I've watched every video possible about this case and can say it was very easy to build in (I would remove the Riser before starting just FYI). I took out all the Hyte fans and switched them for Lian Li Unifans. I'm very impressed with how it looks and performs. My only gripes are that I wish you could just order without the Hyte fans and lower the price somewhat. I'm running 3 120s and a 240 AIO on top and an additional 140 in the bottom. This was my second build and I like it. Thanks Hyte! (Oh and if I could've I would have ordered a Snow White version since I went with white fans all around. )
Hyte Y40 - White
Reviewed on 01/28/2023
My son insisted on the case for his new system and although it's very easy to build in, there are a couple of things that I would suggest. Add some grommets please. For a case designed with aesthetics in mind, the lack of them is puzzling. Also, the bottom fan doesn't do much. In his build maybe 2 degree difference with it installed or not. I think not including them at all and dropping the price would be a good move.
Almost perfect
Reviewed on 01/26/2023
Great case but need more storage options like a hard drive cradle option over the lower fan. For people like me, I run1x m.2 for os 1x ssd for games, 2x hdd for mass storage. space for only 2x ssd or 1 hdd isn't enough for some.
Best looking case so far
Reviewed on 01/18/2023
Just built my mew rigs with this case. Amazing look and very good temps. Even though gpu looks to be chocking, 4080 on 3dmark timespy average 55'c and peaking at 62'c which is very good temperature.
Can You Make It Smaller
Reviewed on 01/13/2023
Beautiful case but can you make it smaller without sacrificing volume? Can the power supply area be shorter? Can the feet be shorter? etc. Something to think about
Black and white deal with it!
Reviewed on 01/8/2023
The people in the comments complaining the case isn't all white I swear y'all are console players lol even if the case is all white the inside of your pc won't be we still don't have an all white motherboard and not all cables are white so y'all need to chill! There are plenty of all white cases you can buy go be a hater somewhere else! Y'all some bots I swear y'all are weird!
Just what I was looking for.
Reviewed on 01/7/2023
Had the Y60 for a bit but I didn't want to do a custom loop for new GPUs. The extra expansion slot would help a ton for 30+ series GPUs with air cooling. As far as people complaining about the onsite not being white? I like the dark inside and the slight tint as it hide little wires or other things and help to only highlight RGB or white elements on the onside of the case that would just get washed out with an all white inside. I am moving away from my Corsair 5000 series all white for this case!
Almost perfect
Reviewed on 01/6/2023
The inside NEEDS to be white for this to be a true white build. Otherwise this case is almost perfect. Hyte, PLEASE listen to your fans. You have something great here, don't let this hold you back.
Keep up the awesomeness!!!
Reviewed on 01/6/2023
Gotta love the ppl who haven't even bought a hyte case come and comment how y'all need to make an all white case. U want all white ppl? Then paint the damn thing lol. Did it for mine for a themed build. Didn't even take long to paint even with disassembling my computer. Y'all act like everyone else has to do everything for u. Or go buy a crappy white Corsair 4000 or 5000 case lmao.
99% perfect......
Reviewed on 01/6/2023
I love it but why not make it totally white? I will keep waiting until they do it and I can make my new build.
Why no 140 at the top
Reviewed on 01/6/2023
Looks so amazing but i would like a 280 Support at the top :/
Color
Reviewed on 01/4/2023
I agree with Vivian, ger rid of the black on the white cases
Almost bought it
Reviewed on 01/4/2023
Love it but I'm totally in on white builds and these half-white isn't working... bring a total (real) white version! and let me know if you will... I would be open to wait for a bit to get one of these in full white.
Color
Reviewed on 01/3/2023
Can HYTE stop making these half ass white base…. Like make the whole case white because that's what a white pc case.