Free ground shipping
in the continental United States.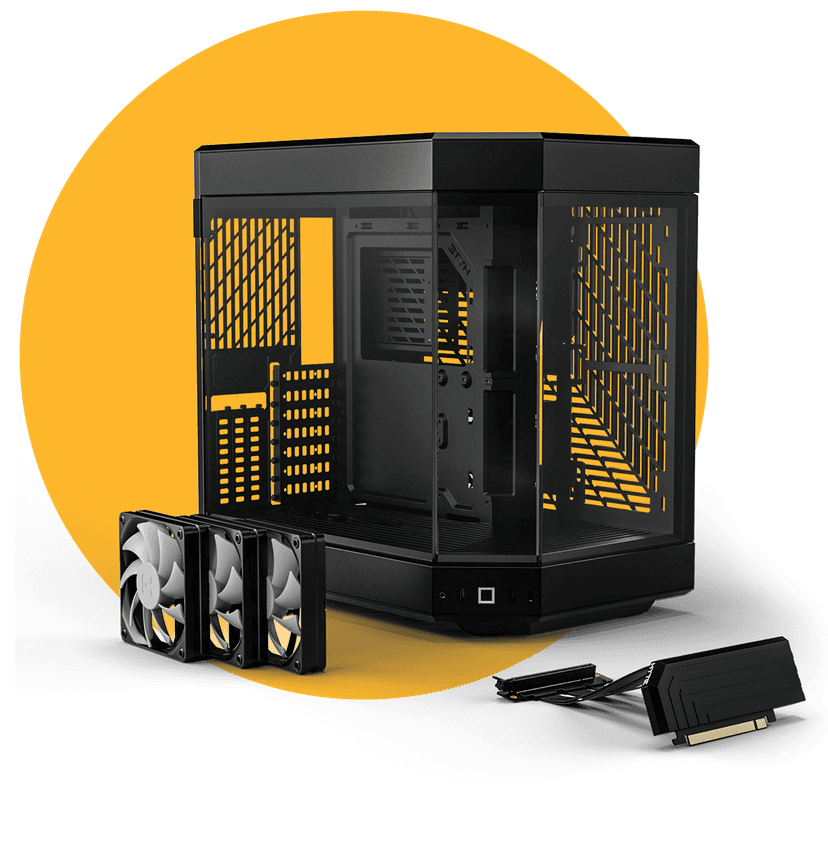 Y60
Modern Aesthetic Case
Why We Made This
A new build should feel new
3-Piece panoramic glass with 3-times more satisfying plastic wrap removal.
We know how much you just spent on that GPU, so we threw in the riser cable.
Cold floor cooling keeps thermals lower than a partly cloudy day with a light breeze and you without your jacket.
Check out this crown molding right there.
Product Features
Panoramic Views
No corner pillar. The Y60 features a 3-piece panoramic tempered glass design for the ultimate photo and display potential. See your build the way it was meant to be seen from the left or right side of your desk with a simple turn.
Exclusively Vertical GPU Mounted
Why would you want to see your graphics card any other way?
Included PCIE 4.0 Riser Cable
A protective riser cable canopy integrates beautifully into the case, allowing for half-height PCIE cards behind the throne of the vertical graphics card. The protective shroud is the first of its kind, made specifically for the Y60.
Antechamber Construction
Segment cables from thermal components and turn your PC into a work of art.
Cold Floor Cooling
Eliminate hot spots with sweeping lateral vents from fans tastefully tucked into the basement of the Y60.
Included Fans
The three pre-installed Flow FE12 fans with fluid-dynamic bearings provide whisper-quiet operation.
Tech Specs
Tech Specs
Type
Dual Chamber Mid-Tower ATX Case
Case Dimensions
456mm (L) x 285mm (W) x 462mm (H)
Interfaces
Front USB 3.2 Gen 2 Type-C
1
Dust Filters
Bottom, Side, Top
* When using an air cooler rather than liquid cooler, HYTE recommends the installation of 2 additional intake fans (not included) on the side mount of the Y60 for optimal airflow.
Wow! One of the best
Reviewed on 05/19/2023
Absolutely awesome case,very easy to work in and the air flow is spectacular. Cable management was a breeze,haven't had any issues to date. Probably one of the best thought out designs on the market... the only issue that might arise is the air flow for a 3 slot GPU will put your fans really close to the glass since you can only verticallymount your gpu. The 4070 Dual seems to get plenty of air flow even under heavy loads like running 1440p ultra settings on cyberpunch 2077 the fans never get over 40% and the gpu stays at a cool 31c.
wonderful case, but fan quality left lots to be desired
Reviewed on 04/20/2023
I bought this case from micro center recently to replace my 011 dynamic. upon building in it, I decided to keep the stock fans in the bottom of the case because they aren't really visible either way so why not leave them untouched. In a little over 50 days, one of those fans has started making a terribly noisy rattle, and then just stopped working. I will have to replace it and likely the other fan in the bottom of the case due to really poor quality. Other than that, the case is beautiful, works extremely well, and feels very well made. (at least significantly better than the fans)
ONE flaw
Reviewed on 04/4/2023
This case is beautiful, easy to build with, comes with fans, and along with the riser cable makes this a great case worth every dollar. HOWEVER, when the moment I had been waiting for came, peeling off the glass covers, tragedy struck. The tempered glass warning wasn't attached to the film it was attached to the case. I peeled it off slowly but it left behind a sticky residue that only goo gone could handle. 9.5/10 would recommend.
Hyte Y60
Reviewed on 03/30/2023
When technology and art shake hands. Currently fitting a custom loop inside and its only 70% done, but it rly looks like a work of art. The case is amazing and it just oozes originality and perfect design choices. Thank you, Hyte.
The best case
Reviewed on 03/11/2023
It's the best case I've ever seen, incredible airflow, the materials are very very solid and the cable management is just perfect, everything is perfectly thought out.(
Hyte y60 amazing
Reviewed on 03/5/2023
Had this case for some time. It's massive! LCD mod now available and that's on my to do list. Great case, can't wait to finish my build.
Great case!
Reviewed on 03/1/2023
I wish the riser was back a bit so my 4090 wasn't so close to the glass. I leave the front glass off but the machine is sexy as hell
Only one problem!
Reviewed on 02/6/2023
I love everything about the case, its aesthetics, its rigidity, the addons it has included. The only problem I had with it is there is no option for hortizontal mount for gpu.
Only one problem!
Reviewed on 01/18/2023
I love everything about the case, its aesthetics, its rigidity, the addons it has included. The only problem I had with it is that my 360mm radiator doesn't fit! It advertises that on the top, rads up to 30mm fit, my 25mm one doesn't quite make the cut. If I put it on the inside, it hits the angled metal on that 45. If I put it on the outside, there's lots of room but the lid wont go on! Overall, not a huge problem. I was wanting a new AIO with a fancy LCD screen anyway!
Just ordered my 2nd Y60 Case
Reviewed on 01/11/2023
I ordered the first case back in July 2022 after seeing it. I really loved the looks and the video riser. My temps dropped from 40-90 down to 30-68 roughly.. I decided to get this 2nd case because I'm sure I'll be upgrading my computer again soon with new hardware. Thanks HYTE.. Love the case.. keep up the good work
The case is ok but needs improvements
Reviewed on 01/11/2023
The case looks nice, good build for the most part and good cable management. I don't know if this is a Gigabyte GPU issue but both the 6750xt and 3070ti don't fit properly when lining up the HDMI and DP ports. I literally had to cut the back of the frame on the case to be able to use the ports. Also, I'm not happy with the way the side fans look, your stuck with only 2 120 or 2 140 fans, it just looks weird, find a way to get 3 fans in there. Also the riser should have been closer to the MB to allow more room for the vertical mounted GPU, you're very limited in which card you can get because of the limited space. I can't even close the glass with the 3070ti, the card over heats.
Amazingly Aesthetic
Reviewed on 01/4/2023
This case has a lot of room for many types of builds. The two fans you're able to mount underneath the GPU (up to 140mm) are great, I was able to fit two Noctua NF-A14 to keep my temps down. It did raise my GPU temps about 5-8c from my last case, but well worth it for the upgrade in looks in my opinion. This will take your build to another level.
Overall Great Case
Reviewed on 01/4/2023
Pound for Pound best case of 2022 just ask GamersNexus. Bought a black one that looks slick as heck. Got a Asus 3090 Ti sitting oh so pretty with the nice looking riser. Wish i could upload a pic. The Temps with my current set up are decent GPU is 29c and CPU is 35c. Not surprised tbh those 2 bottom intake fans are genius and do cool your GPU nicely. I put 2 140mm noctua fans and it cools it nicely. I am going to switch up the orientation of the fans though. Buying the new EVGA clcx aio cooler. And actually putting a rear 120mm noctua fan as a intake so it can compliment the bottom 2 140mm intake fans. I mean the airflow is coming reverse w the new setup because my 3090Ti has 2 very pretty 120mm argb fans and i dont want them to Flip them they look so much better this way. I think it might actually work. I dont recommend using the top fans as intake fans bc dust will accumulate which is why with my new aio im making them exhaust fans heat rises up dont go against this law of nature in my opinion. But yeah love this case even after months of having it. I just never get bored of staring at it! Legendary for sure!
Best Case of the Year According to GamersNexus…
HYTE Y60
Reviewed on 12/31/2022
I seen this back in July 2022, and after looking at a very few reviews that I could find, I ordered it.. It was a little pricey but I loved the looks and the GPU riser. I took my Gen 12 system out of the old case which was very nice, but after installing in this case my temps dropped from 40-90 down to 30-65. I did change out a 2 fan liq. cooler for a 3 fan Liq. cooler.. Put 2 fans on bottom blowing thru the 3070 TI video card - 3 fans blowing outside air down thru the water cooler, then 1 fan blowing out on back, and 2 fans blowing out on front side.. love the looks of this case, and as soon as I'm able I'm planning on buying another..
Good
Reviewed on 12/14/2022
Love it but wish it hade more room for fans.
Love the one I have
Reviewed on 11/28/2022
Could not ask for better quality case
Wouldn't it be nice
Reviewed on 11/1/2022
I saw this case and immediately thought it was a bad design, UNTIL I saw the exploded view and all the fans. Cosmetically, a fantastic design. I'd love to have one in my desk, but what I really thought would make this case super special was a Full on EKWB set: CPU/MB cooling, Waterblocks on the graphics card, interior piping following that 45 degree window. This was built to showcase their cooling.
Dust Management
Reviewed on 10/26/2022
Ive had this case for a little over half a year and I have not had to clean my pc once. i of course clean the glass off and blow the dust out of the filters but as for dust in the PC there is none. I wish I could include photos cause there isnt a speck of dust on my components. I have 2 cats and 2 dogs, 1 that sheds, so this case is a life saver
Great Case
Reviewed on 10/3/2022
pre ordered the case back when it was announced and I dont regret it at all. very good thermals and very quiet
Truly a masterpiece!
Reviewed on 08/15/2022
Having my Y60 for about 2 months now and I absolutely love it. the design, to the little details and viewing angles this case offers truly makes it easily my favorite case on the market! Airflow is excellent in this case, which at first was my biggest concern but I can confirm that this beauty performs extremely well under high load. My 3080 Ti sits very well in my comfort temperature range even under a heavy overclock. My favorite thing is how open this case looks and the included riser cable for that vertically mounted GPU.. OMG! If you want a case that will "Wow!" anyone that see's it. (because this case will break necks lol) and has great airflow? than I highly recommend this case. Also, HYTE has some of the best customer service, and i feel many many many many competitors lack that so much. They have this way in making you feel so welcome and truly heard. They're incredible people. <3 You will not regret getting this case.
Wow.
Reviewed on 07/11/2022
Beautiful case, looks very clean and gorgeous. I highly recommend HYTE. I'm yet to send them a picture of my build because it isn't completely finished, I'm just missing some more RGB Fans. But the quality on this beast.... Holy crap...
Awesome case!
Reviewed on 06/30/2022
Let me start by saying, this case is great for the price it's listed at. I think $200.00 is a really fair value for what's included, and the end result is worth every penny. The front, side, and angled windows make for a unique look, and the depth that makes up the back side of the case where the PSU & hard drives go is also very spacious. There's side, top, and bottom dust filters that will be plenty sufficient. There's USB ports and the power button in an area that fits in well with the cornered window theme. The few minor things I don't like. - You cannot put a GPU directly into the motherboard, or most full size cards for that matter. You MUST use the PCI extender, and there is only room for one. Sound cards, RAID cards, forget about it. - Head room for a top-mounted AIO / radiator, pay very close attention to the mm height specs allowed for a radiator, and then take into account the thickness of fans. Luckily I didn't run into too much of an issue, but the cables necessary to plug into the CPU ports on my motherboard are VERY close to touching fan blades. By VERY close, I'm talking 0.5-1.5mm - More fan mounting options could have been installed in the bottom of the case, instead of just the two. My only comment on all of that, is that if they just made the case ever so slightly bigger, without still having to be a massively heavy full size tower, it would have allowed for a lot more options. Maybe that would equate to it being priced more around $250, well worth it then. Based on product pictures, this case was designed more in mind of full-system liquid cooling setups, I hope to eventually have a build like that to put it to use in that way. I do see this as a case I will keep for multiple future builds to come. It's a strong 4/5 for me. I really enjoy it, but I acknowledge a few of its shortcomings.
Hyte Y60
Reviewed on 05/12/2022
Went from the 011 Dynamic to the Hyte Y60 and I have 0 regrets. This case is so fun to build in and looks so good.
HYTE Y60
Reviewed on 05/12/2022
ESTE CASE Y60 LO TIENE TODO, ES HERMOSO, ESTILO Y GRANDEZA,,, MI PC TENIA UNA TEMPERATURA DE PROCESADOR (RYZEN 7 5800X) EN JUEGOS DE 89 GRADOS CON DISIPADOR DE AIRE DE DOBLE ABANICO, AL INSTALAR ESTE Y60 CON REFRIGERACION LIQUIDA DE 280MM AHORA EN JUEGOS NO SOBREPASA LAS 51 GRADOS.. ES FABULOSO EL CAMBIO.. LO RECOMIENDO AL 100%..
Amazing Case
Reviewed on 04/28/2022
The case is beautiful and such a breeze to build in, arrived safely within a week of it being shipped and it such a pleasure to look at. For anyone planning on air cooling: this case DOES support a Noctua DH15S. Currently sitting at 29 degrees idling, and 48-50 when gaming. I have two 140mm on the right rear side + 3 120mm on top, one 120mm on the left rear and the two included with the case on the bottom.
Hyte Y60
Reviewed on 04/28/2022
Beautiful case and a treat to build in/mod. Added a simple argb led strip in floor that added a cool aesthetic, as would rgb fans instead of the included fans if RGB is your thing. Price includes gen 4 cable and gpu mount, making it less expensive than the 011 Dynamic with kit while providing same high build quality. Only change I'd like to see is a lil more room for dual 8 pin motherboard cables at the top when 360 radiator and fans installed. Thumbs up!
Phenomenal Case
Reviewed on 04/17/2022
Ok so this case is incredible. I just received the red Y60 for a new build I have planned and I can't wait to dive in and explore all of features and possibilities. The quality of the materials and assembly are top-notch. Even the instruction pamphlet is printed on heavier-than-usual cardstock lol. I will definitely recommend this case to all of my buddies. If you are reading this....stop reading and click "buy now."
Our first build
Reviewed on 04/14/2022
My son and I just completed our first build, using this case. Everything came together nicely. Only complaint, and it's minor, is that the side tabs on the front and back panels kind of get in the way when you're putting in the thumb-screws. I'd say we're pleased with the results, and it looks great. Before we heard about the Y60, we were planning to go with a popular similar case from another brand that had a smaller price tag up front but it doesn't come with any fans or riser, so the Y60 ended up being the better deal. Thanks, Hyte!
Love the Change
Reviewed on 04/11/2022
This case is beyond what I was expecting. Finally got away from the over crowded 011D scene. The Y60 is such a great case for the value. I modified this case a bit. I removed the rear fan grill and put in a EKWB FLT120 Pump/Res. Fits perfect. I also swapped the lower 120's for two Noctua 140s. Pros -Riser cable and V-mount -Vents EVERYWHERE -Lower chamber with two fan slots is amazing, blowing air across the card is a plus for rear mounted memory. -Plenty of room for components in the front -Plenty of room for wiring in the back -011D count not V-mount a card if you are using a z690 Apex with the Dimm.2 and a 3090 Kingpin with the LCD on. The Y60 clears up this issue Cons -No replacement cover for the SSD trays. (full M.2 builds will suffer) -Provided screws for the fans going in to the lower chamber are too think of a diameter to my Noctua 140s. Had to find thinner but same threaded screws at HDepot -Not much clearance for the CPU power cables once fans/rad is installed. -The opening for the radiator ports on the top is not big enough for EK Torques. Overall love this case and I am glad i jumped on the wagon. I love the fact that I can use a mid-Sized case but still fill it using high powered components and still get great temperatures was very pleasing. I wish I could submit a picture..
First PC Build
Reviewed on 04/11/2022
I almost returned this case due to the fact I wouldn't be able to add additional pcie express cards that isn't half height. I opted to keep it and just get a new motherboard and start from scratch! I installed an E-ATX motherboard, it's a tight fit but I still managed to get my cables well managed no problem. Great Design and Great Value! Thanks Hyte!
Refreshing
Reviewed on 04/6/2022
This case is very refreshing, I had some trouble finding an apealing case that would also work well with my two fan radiator. It was between this and Lian Li o11 dynamic but opted for this and I dont regret it, its great for unique builds. And it comes with a riser at $200! sold.
Good, Different!
Reviewed on 03/26/2022
Very different from every other case on the market. Like the 45 glass that I haven't seen with any other case. Nice design can fit a bunch of fans and has more than enough space and cable routing throughout. Very pleased with my pre-order!