Display What You Love
ATX with Modern Aesthetic - The Y60 is an innovative genesis in design for the open ATX chassis. We crafted this case to celebrate your favorite hardware, and show your PC the way it was meant to be seen.
Let Your GPU Take Center Stage
You worked hard to purchase your hardware, so show it off! The Y60 is designed to exclusively display your GPU vertically.
VERTICAL GPU, FRONT AND CENTER
The included PCIE 4.0 riser cable will support the newest and highest-performing cards, and its color-matched enclosure will unify your system's look and feel.
Our riser cable mounts slightly beneath the floor of the case, to cleanly frame your graphics card.
Worried about cooling? The Y60 includes 120mm fans beneath the floor to draw air up and over your card, maximizing thermal performance and eliminating hotspots.
Included: PCIE 4.0 Cable
The Y60 has an included riser cable designed to waterfall cleanly over half-height cards attached behind your vertical GPU.
Our cable has been rigorously tested to meet or exceed the PCIE 4.0 standard for signal integrity, offering maximum stability and compatibility.

Smarter Expansion
The Y60 uses "Low-profile PCIE Cards" to improve GPU performance and aesthetics, without compromising on expandability.
Our case supports half-height expansion cards behind the primary graphics card.
This includes capture cards, SSDs, sound cards, or any other expansion that is offered in a half-height form factor.
Looks Cool, Runs Cooler
The Y60 has a unique airflow path allowing for a wide range of compatibility and plenty of cooling options.
3 Pre-installed Fans
120mm
The Y60 comes prepped with 3 pre-installed 120mm fans - 2 beneath the floor, and one at the back of the case.
SIDE MOUNT - RADIATOR SUPPORT
240/280mm
When a standard ATX motherboard is used, the side mount supports 240/280mm radiators up to 150mm thick.
CEILING MOUNT - RADIATOR SUPPORT
360mm
The top of the Y60 supports up to a 360mm radiator.
Cables, Managed.

Bespoke grommets channel your cables naturally toward their motherboard connections while keeping the rear chamber obscured from view.

GPU power connectors can also be ran through an alternate route in the floor of the case, if desired.

Tie-down points adorn our rear chamber, for strategic management that remains flexible to your needs.
Focused Design
The Y60 features 45 degree chamfers designed to smoothly draw in the eyes of the viewer
ROOM TO BREATHE

Remove the glass panels for an open-air chassis that loses none of its aesthetic appeal.

TOP AND BOTTOM CHAMFERED "MOLDING"

Our 45-degree view angle captures attention and draws the eye of the viewer into the case.

Chamfered "molding" on the top and bottom of the chassis ground the case visually and allow for glass-free displays.

HIDE THE REST

Our antechamber design hides unattractive cables, keeping your PC clutter-free, visually appealing, and running cool.
Express Yourself
The Y60 comes in 3 color options; white, black, and red. Match your existing space, or a contrasting color for a standout system that is sure to turn heads.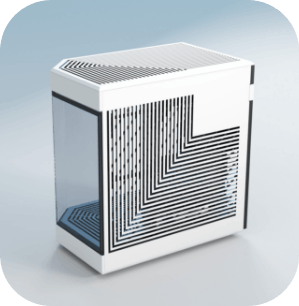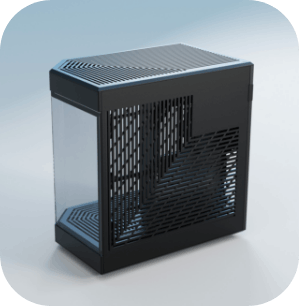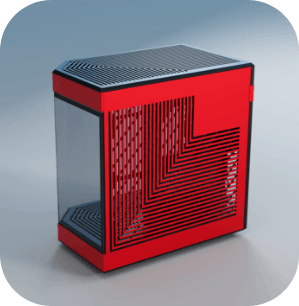 Why Wait? Get Yours Today
A new build should feel new! Let your PC run in style in the HYTE Y60.