Revolt 3
Premium ITX Small Form Factor Case
Free ground shipping
in the continental United States.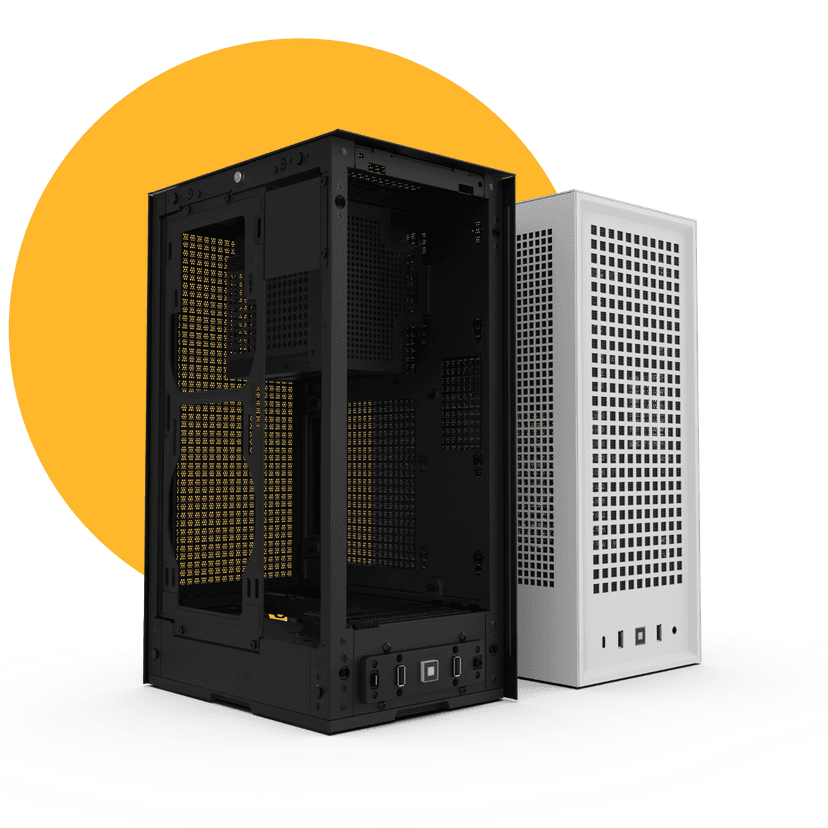 Revolt 3
Premium ITX Small Form Factor Case
We designed the REVOLT 3 to be the ITX case you'll take anywhere, and upgrade for years. With an integrated handle and tool-free side panels, you'll love how easy it is to build in, modify, and travel with.
Supports most full-size graphics cards, no riser cable needed.
Tool-less side panels: pop them off for effortless access to build and upgrade
Integrated handle and accessory holders, for easy travel.
Downward-facing motherboard I/O routes cables out the back of the case
Bottom-front case I/O offers a cleaner desk setup and superior cable management.
Supports 1 HDD and up to 2 x 2.5" SSDs
Optional PSU with pre-measured and routed cables.
Separated airflow channels for CPU and GPU cooling
Get yours today, and experience play before you hit the power button.
Tech Specs
Material
Aluminum, Steel, ABS
Dimensions
253 x 178 x 409mm (9.9" D x 7" W x 16.1" H)
Graphics Card
Most cards up to 335 x 140 x 58mm*
Radiator Support
120, 240, 140, 280mm up to 35mm thick
CPU Cooler Height
Up to 140mm
Top Fan Support
80x15 mm (x1)
Handle Weight Limit
30lbs. (14kg)
Front Interfaces
USB 3.2 Gen 2 Type-C x1, USB 3.2 Gen 1 Type-A x2, Audio/Mic Combo x1
Dust Filters
Front (Metal Mesh), Top, Slides, Rear (Magnetic)
Case Weight
14lbs (6.3kg) - Including PSU
Power Supply
SFX, SFX-L (700W 80 Plus Gold optional)
*See GPU compatibility info.
GPU Compatibility / Radiator Door
We designed REVOLT 3 to be a compact ITX case unlike any other. Access your PC from nearly any angle to upgrade and modify.
GPU Compatibility
Compatible GPU (Tested)/Stated Dimensions
ASUS TUF RTX 3080 Gaming
299.9 x 126.9 x 51.6mm
ASUS TUF RTX 3070 Gaming
299.9 x 126.9 x 51.7mm
Gigabyte RTX 3090 Gaming OC
320 x 129 x 55mm
Gigabyte RTX 3070 Vision OC
286 x 115 x 51mm
MSI RTX 3090 Ventus 3X
305 x 120 x 57mm
MSI RTX 3070 Ventus 3X
305 x 121 x 52mm
MSI RTX 3080 Gaming X Trio
323 x 140 x 56mm
MSI RTX 3060ti Gaming X Trio
323 x 140 x 56mm
ASROCK Radeon RX 6900 XT Phantom Gaming D
330 x 140 x 56mm
ASROCK Radeon RX 6900 XT (Reference)
267 x 120 x 50mm
ASROCK Radeon RX 6800 XT Taichi X
330 x 140 x 56mm
EVGA Geforce RTX 3080 XC3
286 x 127 x 46mm
Incompatible GPU/Stated Dimensions
ASROCK Radeon RX 6900 XT OC Formula
332 x 137 x 61mm
Gigabyte AORUS GeForce RTX 3080 MASTER 3
319 x 140 x 70mm
Gigabyte AORUS GeForce RTX 3070 TI MASTER
324 x 142 x 70mm
Gigabyte AORUS GeForce RTX 3090 MASTER
319 x 140 x 70mm
Gigabyte AORUS GeForce RTX 3080 TI MASTER
319 x 140 x 70mm
MSI GeForce RTX 3080 SUPRIM X
336 x 140 x 61mm
MSI GeForce RTX 3090 SUPRIM X
336 x 140 x 61mm
Good case
Reviewed on 05/25/2023
Good case and easy to build in it's just the power supply cables are extremely stiff for some reason.
Almost Perfect
Reviewed on 10/25/2022
I like this case a lot. Everything fits nicely and it looks good. I removed the side fan holder and all the dust screens. My 5600x doesn't go above 55C with just an air cooler and my 6800xt doesn't go above 75C while gaming. I have no other fans in the case. I wish I could show a picture. The only thing missing is a glass panel on the side. It looks soooo good with no panel on the side. Please make a glass panel HYTE. I might just make my own. Otherwise, great case!!
More than you would expect: D
Reviewed on 10/17/2022
I was looking for a small case that would fit my mobile type of work. At the same time, I wanted something stronger than a gaming laptop. And here it is, the case with the handle. A few tech films on yt later I knew it was the equipment for me. It has everything I needed and I can finally play at the highest level without worrying about the temperature or the requirements of the title.
Thoroughly Pleased
Reviewed on 06/9/2022
This case is very easy to work with, and is very accomodating for 3 slot gpus. Or in my case, a water cooled gpu, and a 240 rad with slim fans in front of it (on custom mounts I made). I Installed a 280 rad as well (cpu is water cooled, too), and it has great airflow. 0 complaints.
Great case!
Reviewed on 12/16/2021
Built many SFF cases and this one by far takes the cake. No need for fancy complicated pci riser cards. Case has PLENTY of air flow and tie downs to manage your wires! All around well built and we'll thought out design!!!! A++++ highly recommended
Great space utilization!!
Reviewed on 12/13/2021
I don't think you could make a case that is anymore densely packed and still have room for air flow to keep a high end GPU and cpu cooled. The hardware is all easy to work with and install. Great overall design.
Compact, sleek and easy to build in!
Reviewed on 12/10/2021
Ordered this case for a smaller desk footprint and to easily move the case from my office to the basement to connect to a sim racing setup. Building in the case was easy and fit my 3070FE with ease. I also fit 2 140MM fans at the front of the case to assist with Gpu temps, however the temps were already much lower than my previous NR200 case before those fans anyways. I am using an air cooled setup with an NH-L12S cooler and i love the fact that i have the option to have 2 fans moving cool air towards my cpu cooler and motherboard. The case looks sleek and fits nice and snug on the corner of my desk, leaving tons of space for notes/papers/coffee mugs throughout the day. One thing i would add would be adding fan mounting holes at the front of the case
Perfect case for a small desk
Reviewed on 12/9/2021
I have a small desk and was looking for a small form factor premium mini ITX case that did not break the bank. I saw a video on YouTube about this case coming up soon and was instantly attracted to the design. I wanted something that didn't take too much horizontal space from my desk. Vertical space is not a problem, so this was the perfect solution. As the case is tall you won't lose the capacity of using a big video card like the EVGA GeForce RTX 3080 XC3 with three fans. I advise you to check the GPU Compatibility tab to see what GPUs you can feel and what not. Long story short, I ordered the black version with no power supply as soon as it was out and got in about a week. Assembled my mini itx build and never looked back. This is what I have inside the case at this moment: - Asus ROG Strix Z490-I Gaming - Intel Core i7-10700K - Samsung SSD 970 EVO Plus 1TB - EVGA GeForce RTX 3060 Ti FTW3 ULTRA GAMING - Crucial Ballistix 3600 MHz DDR4 DRAM 16GB (8GB x 2) - Corsair SF600 600 Watt SFX 80+ Platinum Certified - NZXT Kraken X63 280mm RL-KRX63-01 (No RGB Fans) Pros: - Looks very good. - Very good air flow. - Noise levels are adequate. - It's really easy to build inside with plenty of space. - Mother board I/O panel is looking down, so cables are hidden away. Perfect spacing for cables to clear. - Well positioned front I/O panel and power button. - Well build top handle to move the case around. - Two headset/accessories' holders. Cons: - Cable connected to my back I/O USB-C and enabling my front I/O USB-C is way too thick and it's kind of hard to route out of the case.
Revolt 3
Reviewed on 12/8/2021
Been wanting to build an ITX system for a while and finally pulled the trigger when I saw this case. Naturally SFF pcs are a bit more difficult than full size builds, but this case wasn't too bad to build in. Many reviews focus on water-cooling using the side mount for a radiator, but air cooling is very much possible in here as well. Love that there is no riser and surprisingly decent drive support (don't need to replace my old 3.5inch drive yet). I'm really excited to see what revisions of this case could be in the future.
Just what I needed
Reviewed on 12/8/2021
I've been in search of a good portable PC case and this is it! Sleek design and great build
One of the very best ITX enclosures on the market currently
Reviewed on 12/8/2021
I saw a few reviews from YouTube tech channels that praised this case for it's well thought out interior. After working in it myself, I have to agree. It's not the smallest ITX case out there, but it's small enough with its vertical footprint to only occupy a corner on your desk. The handle is a neat feature, but I don't personally feel comfortable carrying around a PC that costs two grand by a hinge handle. That being said, it does feel solid and well attached. The headphone holder is also a very nice touch. Make sure you build in a logical order or else you will find yourself removing components and reinstalling them in the correct order to fit them into the case (The joy of ITX builds). I recommend using the manual as a guide at least the first time you build in the case. Cable management isn't too difficult, but it will be a challenge to make it look show floor clean. You can't see into the case anyway, but I know there are those of you like myself that get uptight about clean cable runs. Thermals are very good as well thanks to the vented panels. Overall, I highly recommend.
Suprisingly easy build
Reviewed on 12/8/2021
So far I'm impressed. The build was easier than I thought it would be. The only parts that gave me any trouble was positioning the AIO tubes so I could actually close the radiator door (ended up using zip ties to keep them in place), and the CPU power cable was just a little too short and rigid. I used a Fractal Celsius S24 AIO, so the tubes were just flexible enough to make it work. I also removed the dust filters on the sides covering the radiator (set to exhaust) and the GPU, which have helped thermals quite a bit. Loving the design of the case, the handle seems pretty sturdy when carrying it room to room, and that flight case it came in is amazing.
Perfect for LAN parties and travel
Reviewed on 12/8/2021
I picked this case up on launch day as I have yet to see a case better designed for LAN parties. Some specifics: 1) Small footprint, given only so much room on the table at LAN parties and when travelling, the footprint of this case is tiny, while 2) having plenty of room for powerful builds, both air cooled, AIO, and custom watercooling, since the case was designed to take space vertically while only taking up a small space on a desk/table. 3) Unique appreciated features like the handle and the gear hangers on each side, so even MORE room is saved by giving off desktop storage for headset and controller. 4) Very well made so being knocked around (a bit) won't hurt the case, and 5) BONUS: Since I ordered on launch with PSU, I received the flight case so that the case can be coddled while I travel... but otherwise you can picked up a Pelican case or otherwise to travel as this form factor should be relatively easy to find a flight case for. In addition, just as a case, this is a nice, clean design that is nice looking and not garish, has great front panel I/O, has nice airflow while still having enough substance and radiator/fan room to allow for cool and silent operation. I have been waiting for a case like this for a long time, it's great!
Case and spacing
Reviewed on 12/8/2021
Honestly I have more love for ITX and SFF than I ever thought I would. This case is amazing and it's layout simple. Being able to put a 240mm or 280mm radiator is very beneficial as well for heat exhaust. I love this case.
Great ITX case
Reviewed on 12/8/2021
Such a nice design and fits everything in there really well!
I've Never Been Happier With A Purchase!
Reviewed on 12/8/2021
I Love this case! I've been looking for a small form factor case for sometime now as I'm not a fan of large cases. Originally when I was writing this review, I had gone into all this detail about why I hate larger cases, how unnecessary I thought they where and how I felt their was a lack of creativity going into companies building cases but I will forget all of that and just get down to the basics. (1) I love how the case looks! It's clean and Aesthetically pleasing! It's the same height as my PS5 so it looks great next to it on my desk! I love it's minimalism. I love that it has a place on either side for headphones (which allows me to de-clutter my desk) and it's so well built! (2) I like that it supports a 3.5" HDD which is something a lot of small form factor cases lose when going small. with the exception of a few, that's one thing you generally have to lose and I'm not ready to upgrade completely to SSD or NVME since the storage capacity and price isn't where I need it to be. (3) One of the things that caused me to pull the trigger is that the Founder's Edition came with a flight case! As someone who attends conventions and possibly LAN Parties in the future, I love how the case is so easily portable. If I stay in a hotel, it's no effort to take to a hotel or a friends house. (4) The most surprising thing about the case that I was worried about was the Temperatures. I knew with a liquid AIO cooler, the CPU would be fine but I wasn't sure about the GPU. However, since the GPU gets it's own Fresh Airflow towards the front, my GPU idles around 33 Degrees. The highest I've ever seen it go is 88 degrees and that was while REALLY pushing it. I run a Zotach 2070 Super Mini and it seems to perform excellently! Even when I inevitably upgrade my GPU, I'm not worried about airflow. Honestly, I just couldn't be any happier with this case. I honestly don't see myself changing for a long time, even as I slowly upgrade my Computer. It will take a lot for me to change cases as this case really does everything I wanted it to do and GOD IS IT BEAUTIFUL! It just looks SO GOOD on my desk! I think if your someone who is looking for a small form factor case, you don't mind working in a smaller case (smaller cases are obviously going to be a tiny bit more difficult to build in since you have to make sure the CPU cooler, Fans, GPU, storage and PSU all fit properly) and your looking for something clean and built with quality, you really can't go wrong, specially if you where lucky enough to get your hands on the Founders Edition flight case as that thing is legit! Honestly you could probably build one yourself but who knows. maybe HYTE will humor the idea of selling it as a separate accessory in the future assuming there is enough demand for it. Personally I think it would be a great idea considering it's what originally sealed the deal for me!
Good!
Reviewed on 12/8/2021
Very good overall. Has a few points I noted. larger GPUs may have some GPU power cable clearence issues with the side panel (3080tuf just hardly fit, EVGA 3070 FTW3 didnt fit) Besides that, very happy with my purchase
Great build
Reviewed on 12/8/2021
I was on the fence between this and the Meshlicious but 3 factors sold me for this case: - The handle - Good CPU Air Cooler height clearance. I don't want to deal with AIO. - Bottom i/o panel. I hate back i/o panel due to the messy cables. Glad I chose the Hyte Revolt 3 since the build was pleasant due to plenty of room for cable management.
Hyte Revolt 3
Reviewed on 12/8/2021
As an experienced builder, this has been one of the easiest SFF builds I've worked with in a long time. The headset stand seemed silly to me, but the person I built this for loves it and I regularly see them using it when I am over at their place. Comparing it to H1, it really just blows the old firestarter out of the water. Between better than usual GPU clearances, easy 240 aio install, and a very nice minimal aesthetic it is my favorite tall styled ITX case so far. That said, the side panels seem to be prone to warping, the handle does seem like a point of failure over time, and it does get tedious to tip the case to plug in items to the main IO of the system. I would like to see a copper plate for the future that I can order, stronger PSU (700W only and the case is built to be able and support a 3080, come on now.) and a reinforced handle and longer headphone peg if a revision comes around, but none of these things make the case any less appealing for a nice SFF desk build or a media console to run Microsoft flight sims considering the competition. It fights the H1, tower 100 and evolve 2 as the 3 other cases I've built in, and was just all around easier to work with and gave me more flexibility, smaller gripes aside. It holds its high rating until someone can give me a similar profile and GPU compatibility with easier to access IO, sturdier handle and a stronger PSU. I'll be waiting.
Hyte 3
Reviewed on 12/8/2021
Very high quality case. I plan to build a custom liquid cooling system in it.
HYTE revolt 3
Reviewed on 12/8/2021
The Revolt 3 is an awesome case. Easy to build in, and looks great especially the handlebar. Which is why this case is a great option for anyone, who plan to take this pc on the go. Would recommend this to anyone.
Super Easy Build
Reviewed on 12/8/2021
I really love this case. It was super easy to build in. I initially built my rig using a 120mm AIO but decided to upgrade to a 240mm this case handled it with no issues. I also love that the layout doesn't require a PCIe Riser cable. I highly recommend this case
Great
Reviewed on 12/8/2021
Fits a surprising amount of hardware inside, can't wait to see what future products look like!
Revolt 3 w/power supply
Reviewed on 12/8/2021
Great case, a must have if your into mini-itx with a more longitudinal build. Highly recommended water cool as its more catered towards it, but air cooled works just fine. Managing cable with air cool can be a hansel near the power if you dont plan ahead. Overall a great case.
Best ITX Case On The Go!
Reviewed on 12/8/2021
Purchased this ITX for my future build (Oct 18 when it was on sale for 99$) but due to GPU shortage I was able to case swap with a prebuild (H1 Mini) with this. Slap a 240m AIO Corsair and it runs just fine. Better airflow than H1 Mini IMO and that's not just because I upgraded a 240m AIO. The temps are the same from the H1 Mini but the GPU temps had better air flow and same goes to the PSU. Would recommend anyone who is interested on owning a ITX on the go!
Awesome Case
Reviewed on 12/8/2021
I was lucky enough to get this case as well as the awesome numbered flight case as well! Building in it was a blast and have done a few builds with it now and can say it is one of the better thought out case designs for a sffpc. The handle is next level!
Hyte 3 Revolt
Reviewed on 12/8/2021
Long story short I moved from a P500A by Phanteks. This was a zero compromise build for me because it fit my 280mm CLC for the 5600X and a FTW3 3080. This thing is a beast! But do your research first. Please watch the Gamers Nexus on this case, there are a few complications, but nothing they didn't discuss. Anyways I love my "White series X" that's secretly a 1% gaming PC.
The Zero Compromise Series X
Almost perfect (it has one little issue)
Reviewed on 12/8/2021
the overall build experience is easy and fast, like how all the YouTubers showed in the video. Took me not more than 2 hrs. I love the two hanging sticks, I hung my headset and Oculus. However, there is one issue during my building experience but it can be compromised: The 2.5'' hard drive is designed to mount appending to a plate. It turns out for the blow one there is no room for the 90° power cable inserted into the hard drive because it got blocked by the cutout of the plate. It seems the design didn't consider that the ports are mirrored because the two drives are facing upside down with each other. I compromised a bit to loosen the screws, inserted the power cable, and tightened it as much as possible then it's barely flat (it also conflicts with the outside panel a bit, just a bit). But I can't say no to this appearance, I love the white coating.
First itx case
Reviewed on 12/8/2021
This was my first itx case and i love it. It's a breeze to build in! You can easily remove all the side panels and assemble your pc and route any cables easily and quickly. I also love that it doesn't need a pcie riser cable which makes the build easier and less complicated with possible compatibility issues from needing a cable. I'd recommend this case and buy it again !
Revolt 3
Reviewed on 12/8/2021
Great case!! I was skeptical about the case's capacity and the ease of build. Super easy to build in and super build quality
Great ITX case!
Reviewed on 12/8/2021
I have done several ITX builds over the years and was very impressed with the amount of hardware this case accommodated and how easy it was to build in.
PCbox series x
Reviewed on 12/8/2021
Love the look, size, and the mobility this case provide.
Nearly 5 Stars
Reviewed on 12/7/2021
The case looks good and has decent build quality. As far as ITX cases are concerned, this one checked all of the boxes for me - no pcie riser, 280 aio, and bottom-facing IO. Unfortunately, the case is far more difficult to work in than it needs to be. Hinging the motherboard tray vs the radiator panel would have vastly improved the build experience. The 3.5" HD bay should be modular and able to be completely excluded from the case. Lastly, while it appears to accommodate two 80mm fans above the GPU, you can really only fit one there. Making room for a single 120 would have been optimal.
Great SFF Case
Reviewed on 12/7/2021
Very nice looking SSF case. Appreciate the huge GPU compatibility and mesh design. The handle and headphone holders are also very useful and hide away when not in use.
Small and discrete
Reviewed on 12/7/2021
Pros: - Very easy to build in the case. - Supports 280 mm Radiator - Very small footprint on desk surface - Headphone handles are very handy - Very discrete look (I got the black version) - No riser required for GPU - Room for additional 60mm slim fan at the top - Excellent Ventilation Cons: - Painted finish seems cheap but looks fine - usb C port does not plug into the motherboard header and requires the use of the usb c port on the motherboard io panel - If you're into RGB lighting it will not be visible
Small, efficient and great upgrade
Reviewed on 12/7/2021
I found out about the Hyte Revolt case while doing research on ITX cases. I had my system in a NZXT H210i which was nice but my video card ran hot and there was no easy way to transport my computer. The build quality of the Hyte is excellent. The footprint is smaller due to how the motherboard and graphics card are situated. With the mesh panels my whole system runs cooler. Yes a little louder but frankly not much. Cable routing is easy and I have a full size NZXT Kraken Z3 water cooler. Overall I am extremely happy with the case, quality and functionality. Nice job Hyte!
Not bad
Reviewed on 12/7/2021
The Hyte case brought some nice changes to the itx sff builds. I am fond of their no riser needed design, their handle and headphone holder. It helps to save some desk space. I did not like their implementation of usb-c front header, or the bottom facing rear I/O, but the latter is not really an issue with their well placed front ports. It would be cool if the power button was rgb or a less bright white. Overall, I am happy on how my son's build turned out in this case.
Good product at a decent price
Reviewed on 12/3/2021
I found Revolt 3 on a couple of Tech YouTubers channel with decent reviews so I gave it a chance when it was discounted! What makes it even better is that I can use my chunky 3080 in it. Looking forward to the future products!
Honestly, a breath of fresh air
Reviewed on 10/24/2021
I'm a huge fan of when companies step outside of their boundaries. When Kia announced the Stinger, a midzed sports sedan with a twin turbo V6 and brembo brakes, I was on of the first in my state to get one. And when IBuyPower decided to create a subrand to sell other materials besides their standard prebuilts, my curiosity peaked yet again. So after seeing some reviews, I bit the bullet and bought. Now, I've been building pcs and fiddling with hardware for a long time. I have a wide range of full size towers all the way down to some niche Mini ITX cases like the NCase M1 and even some oddballs like the Phanteks Evolv Shift X. I've been through most of the fun compromises manufacturers make to fit components into as small a case as possible. That is where this case shines. Every compromise that usually happens in a Mini ITX case was thought of and over come. Rise cable problems? There's no riser cables. GPU too big? Mount it verically. Hell, my Gigabyte OC Gaming 3070Ti fits in there with the removal of the top to facility entry and it's among the largest cards currently made. Struggle with overheating? Make the whole damned thing mesh and give it space for a 280 AIO on the side. Cable routing a problem? Make access points with quick screw to get around it. Can't use your PSU shutoff switch because its burried deep in the bowels of the case? Add a secondary one on the outside. Seriously, it was a breeze to build in this case comepared to others. The fit and finish is decent for what you pay, the accessories are good, the handle is awesome (albeit it is starting to squeak, but a little lithium grease fixed that) and for those that have a need for the headphone hangers, they could be useful. Even the front IO is spot on. Now, i've been praising this thing for a minute here, but there are some problems. As I mentioned before, the handle has a satisfying actuation and solid feeling, but the mechanism started to squeak after the third use. Not major, but definitely iritating. The space to pass PSU cables is....interesting. Its functional and can be removed with a couple screws, but is very tight even for my standard size SFX unit. With nice braided cables, i think you'd be good as most of the problem is the stock rubber cables being very stiff. The SSD trays are a little bit of a pain to route things to if you already have a GPU inside. And there is one "mini itx" compromise they had to make in this case. In order to facilitate all of the positives mentioned before, the IO has to face downward. It's not a huge deal if you don't need to access it often, but most thumbdrives will be too deep to fit and even some of the thicker, higher quality display cables may need to take quite a bend to fit and finally, the fact that the front IO cables route through your main IO area is a little annoying. Cable management is a must there if you want them tidy and not interfering with anything else. Here's the thing. All mini itx builds have compormises whether it be thermals, shere size, power limitations, a pain in the a$$ to build in etc. This case, solves more of them than any other I've built in. Even with the small niggles mentioned, everything went together as if they were meant to which is rare. This was a staggering first home run out of the ball park for HYTE/IBuyPower. I'm sure it was the brainchild of the want for a SFF PC to sell and some engineers that were let loose to create something cool to sell once the prebuilt mania dies down and availability of components (god willing) returns to normal. Seriously fantastic work, I would definitely recommend checking this out especially if you need some form of a mobile workstation.